Guests of Honor
Johns Hopkins Medicine
International Community Service Award

PETER J. MCDONNELL M.D.

Director, Wilmer Eye Institute
at The Johns Hopkins Hospital
Dr. McDonnell received his bachelor's degree in chemistry from Dartmouth College. A 1982 graduate of the Johns Hopkins University School of Medicine, Dr. McDonnell completed a residency in ophthalmology at the Wilmer Institute, followed by a fellowship in Cornea and External Diseases at the Doheny Eye Institute of the University of Southern California. He returned to Johns Hopkins to be Assistant Chief of Service at the Wilmer Institute, before joining the full-time faculty at the University of Southern California, where he advanced to the rank of professor in 1994. 
In 1999, he was named the Irving H. Leopold Professor and Chair of the Department of Ophthalmology at the University of California-Irvine. In 2003, he returned to Johns Hopkins University where he leads the Wilmer Ophthalmological Institute as the sixth William Holland Wilmer Professor and Chairman. The Wilmer Institute is the largest ophthalmology department in the country, with over 130 full-time faculty, and it receives the most research funding.  It includes the only designated eye trauma center in the State of Maryland, and last year provided eye care for patients from throughout Maryland, from all 50 states and from 73 foreign countries.
Dr. McDonnell's research interests include dry eye disease, ocular infection and gene therapy to control corneal wound healing and inflammation. He is the recipient of research grants from the National Eye Institute, Research to Prevent Blindness, and other funding agencies. He has published over 250 scientific articles and holds four patents. The American Academy of Ophthalmology honored him with the Honor Award in 1991 and the Senior Achievement Award in 2001. In 2003, he received the Alcon Research Institute Award. A member of many professional ophthalmology and medical societies, Dr. McDonnell has served on the editorial boards of six ophthalmology journals and is currently Medical Editor of Ophthalmology Times.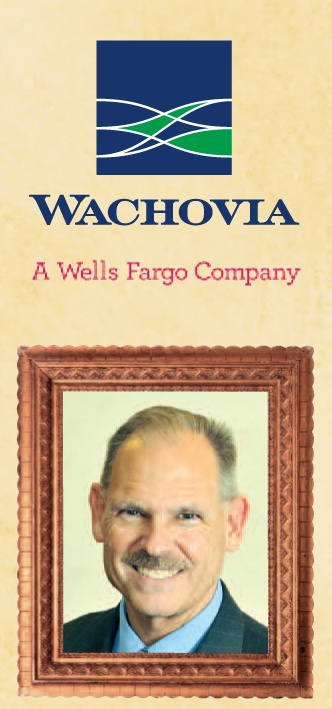 International Corporate Leadership Award

ANDREW M. BERTAMINI

Greater Baltimore Regional President
Wells Fargo-Wachovia
Mr. Bertamini, a native of Anne Arundel County, serves as Regional President of Wells Fargo-Wachovia for the Greater Baltimore region, overseeing retail banking operations and serving as the company's primary community ambassador. Wells Fargo is the nation's second largest bank in deposits, and with $1.2 trillion in assets, is the fourth largest in assets. Wells Fargo, which began business in Baltimore back in 1914 handling express contracts on the Baltimore & Ohio Railroad, merged with Wachovia in October 2008.
In Maryland, Wells Fargo operates 81 retail banking stores under the Wachovia name that provide consumer and small business banking services including mortgage loans, investment products and insurance services. Wells Fargo-Wachovia is also extensively invested in Maryland's schools and communities through corporate and foundation giving, and through its employee team member community support programs. In 2009, the Wachovia-Wells Fargo Foundation contributed more than $775,000 in locally-decisioned grants in Greater Baltimore, and area team members volunteered 17,000 hours.
Mr. Bertamini's civic involvements are numerous. Currently, he is a board member of the American Heart Association; the Greater Baltimore Committee; the Downtown Partnership; Healthy Neighborhoods, Inc.; the Maryland Council on Economic Education; the Maryland Bankers Association; and an Advisory Board Member of the Johns Hopkins Children Center.
Mr. Bertamini attended the University of Maryland, University College, in Adelphi, where he received his Bachelors in Business Management.
American Humanitarian Leadership Award

ROB HARMAN
Vice President, Giant Food LLC
Rob Harman is an accomplished senior executive with more than 30 years of extensive experience in marketing, sales and business development.
Presently, Rob serves as a Regional Vice President overseeing the operations of 52 full-service Giant supermarkets with annual sales of $1.9 billion. 
Previously, Rob held numerous managerial and leadership positions within Giant Food and its parent company, Ahold USA. These positions included, among others, Senior Director of Operations, General Sales Manager, Director of Merchandising and Operations, and District Manager of Giant's Baltimore & Northern Territory.  In his various capacities, Rob consistently increased the company's sales base and earnings and helped guide Giant Food from being a regional company to part of a worldwide corporation. Rob also directed major programs within Ahold USA and Giant Food focusing on operational excellence and business improvements.
Rob attended Catonsville Community College, has completed advanced studies at the Ahold Retail Academy in Holland and is a Graduate of the Leadership Forum from the Maryland Department of Economic Development. 
Maryland Public Service Award

DELEGATE PETER A. HAMMEN
Delegate Peter Hammen, a native of Baltimore, has represented the 46th legislative district in the Maryland House of Delegates since 1995. He has served as the Chairman of the Health and Government Operations Committee since 2005. The Committee has jurisdiction over all legislation relating to health care, as well as state procurement and civil rights. In his capacity as Chairman, he has secured passage of legislation that has dramatically expanded eligibility for Medicaid, provided prescription drug assistance to seniors, and expanded access to substance abuse treatment services. In addition to his legislative duties, Delegate Hammen is actively engaged in the community, volunteering his time regularly for the many community organizations within his district.
Delegate Hammen attended the University of Baltimore where he received his Bachelors degree in Criminal Justice and his Masters in Public Administration.
                    Maryland Law & Jurisprudence Award

ALAN F. M. GARTEN
Alan is a graduate of the Park School, Washington University (S. Louis) and the University of Baltimore School of Law. He is a third generation member of the law firm of Fedder and Garten Professional Association founded in 1926 by Alan's grandfather, Morris Fedder. Alan's father, Herbert Garten, and his uncle, Joel Fedder, joined the firm in the 1950's. Mr. Garten was admitted to the Maryland Bar in 1980 and before joining the firm served for a year as a judicial clerk in the Circuit Court for Harford County.
Alan has written and lectured in the areas of Creditor's Rights and Landlord and Tenant Law. His area of practice mirrors that of the law firm and includes matters related to business, commercial transactions, corporate law, real estate, estate planning and  administration, creditor's rights and commercial litigation.
Alan is a member of Beth Am Congregation, AIPAC and numerous other law-related and lay organizations. He is rated "AV", the highest rating granted by Martindale-Hubbell and has been recognized by a national publication as one of Maryland's "Super Lawyers".
                                                    Woman of Valor Award

ADRIAN S. DOBS, M.D., M.H.S. 
Dr. Dobs, a native of New York, is Professor of Medicine and Oncology in the Division of Endocrinology and Metabolism at The Johns Hopkins University School of Medicine, where she also serves as Vice-chair of Faculty Development at the Department of Medicine, and as Director of the Clinical Trials Unit.

Dr. Dobs graduated from Cornell University and received her medical training at Albany Medical College in Albany, NY. She completed her residency at the Albert Einstein College of Medicine in New York, where she later served as Chief Resident. She received her Fellowship training in Endo­crinology at Johns Hopkins Hospital, and her Masters of Health Sciences, specializing in Cardiovascular Epidemiology, from The Johns Hopkins University School of Hygiene and Public Health.

Dr. Dobs is on faculty at The Johns Hopkins University School of Medicine, where she was formerly an Associate Professor and Deputy Director for Clinical Research. She has published extensively in various medical publications, and received many research grants for clinical research from the National Institute of Health and the pharmaceutical industry.

Dr. Dobs and her husband, Dr. Martin Auster, who is Assistant Professor of Radiology at The Johns Hopkins Bayveiw Medical Center, are the proud parents of four children. Nina, married to Yitzi Cusner, is a graduate of Brandeis and is currently a teacher at SHAS Jewish Day School in Sharon, MA. Becky, is a recent graduate of Cardozo Law School and lives in New York City, together with her husband Daniel Freedman. Harry Auster, married to Michelle, is a graduate of Yeshiva University and is presently in graduate school at New York Medical College. Paul Auster is currently a junior at the University of Maryland, College Park. Dr. Dobs and Dr. Auster are members of Beth Tfiloh Congregation, and they are the proud grandparents of two grandchildren.