- Guests of Honor -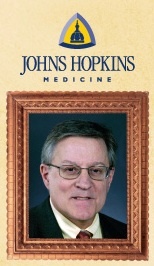 Johns Hopkins Medicine International Community Service Award

RICHARD A. GROSSI

Senior Vice President and Chief Financial Officer, Johns Hopkins Medicine
Richard A. (Rich) Grossi was born and raised just north of New York City in Westchester County, NY. He graduated from Mt. S. Michael Academy in the Bronx, NY, earned both his Bachelor of Business Administration in Accounting and his Masters of Business Administration in Finance from Pace University in New York. He was a recipient of the Eisner and Lubin Fellowship and the Bache Award for graduate study at Pace.
Mr. Grossi began his professional career as Chief Accountant for S. Johns Riverside Hospital in Yonkers, NY, and was promoted to Assistant Controller. He has also held the position of Assistant Director of Financial Analysis and Financial Director of the Medical Group at the University of Connecticut, and Executive Director of the Medical Group at Wright State University in Ohio. Since 1978, Mr. Grossi has been at the Johns Hopkins University in Baltimore where he began as Director of the Medical Practice Plan and has held the positions of Assistant Dean for Administration, Associate Dean for Finance and Administration, and currently Senior Associate Dean for Finance and Administration for its School of Medicine since 1996. Mr. Grossi has held the positions of Vice President and currently became Senior Vice President and Chief Financial Officer for Johns Hopkins Medicine, which includes the School of Medicine along with Johns Hopkins Hospital and Health System.
In addition to his full-time career, Mr. Grossi has assisted numerous healthcare organizations as a consultant. His specialties include: financial management and strategy; planning and operation of University and/or Hospital based clinical practice; facilities design, construction, and management; and, real estate syndication.
Mr. Grossi has been active in the Hospital Financial Management Association, the Medical Group Management Association, and the Association of American Medical Colleges. He is a Past-National Chairperson of the Association of American Medical Colleges= Group on Business Affairs, and is now on the Finance Committee for the National Resident Matching Program.
Mr. Grossi has been married to his wife Linda since 1969 and they have two married children, Jeffrey, and Melissa.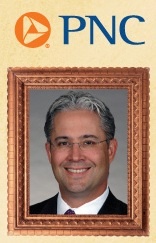 International Corporate Leadership Award

LOUIS R. CESTELLO

Greater Maryland Regional President, PNC Bank
Louis R. Cestello is regional president for the Greater Maryland region for PNC Bank. Mr. Cestello is responsible for PNC' s Corporate Bank, Commercial Bank, Wealth Management and Institutional Investment business development across the region.
Mr. Cestello has many years of broad experience with PNC. He joined the bank as a management trainee and has held varying levels of responsibility in Corporate Banking, Corporate Finance and Credit.
Prior to being named to his current position in January of 2008, Mr. Cestello was executive vice president and regional manager for PNC' s Corporate Banking and Corporate Finance businesses in Western Pennsylvania and Eastern Ohio.
Mr. Cestello currently serves on the board of trustees of the Baltimore Community Foundation, The William G. Baker Fund and Loyola University in Maryland. In addition, he is a director of the Greater Baltimore Committee, the Economic Alliance of Greater Baltimore, Caves Valley Golf Club and is the chairman of the Maryland Ready at Five Partnership. Mr. Cestello holds a bachelor's degree from Washington & Jefferson College and a master's degree in business administration from Duquesne University.
American Law & Jurisprudence Award

RONALD M. SHAPIRO
Shapiro Sher Guinot & Sandler
Attorney, Expert Negotiator, Sports Agent, Educator, New York Times Bestselling Author, and Civic Leader, Ron Shapiro attended Haverford College and graduated Cum Laude from Harvard Law School in 1967. After moving to Baltimore in 1967, he began teaching law school in 1968. From 1972 to 1974 Mr. Shapiro served as Maryland State Securities Commissioner and earned a reputation as one of the most effective state investment officials in the nation. In 1972 he founded what is now known as Shapiro Sher Guinot & Sandler, a prominent Baltimore law firm. Subsequently, in 1976 Shapiro founded Shapiro, Robinson & Associates, a sports management firm, and in 1995 he founded Shapiro Negotiations Institute, a negotiation seminar and consulting firm that has trained over 350,000 professionals in the art of negotiation, dealing with difficult personalities, and enhancing preparation and listening skills.
USA TODAY called Ron Shapiro "one of baseball's most respected agent-attorneys," and THE SPORTING NEWS named him one of the "100 most powerful people in sports." His impressive list of clients includes more Hall of Famers than any other agent, including Cal Ripken, Jr., Jim Palmer, Brooks Robinson, Kirby Puckett, and Eddie Murray. In addition, Shapiro is the Special Advisor to the owner of the NFL Baltimore Ravens and to the General Managers of the NBA S. Antonio Spurs and the Oklahoma City Thunder.
Shapiro authored more than 20 law journal articles; co-authored books on corporate and securities law; founded Maryland's major bar review course; and began a legal publishing company. He taught at the Johns Hopkins University, the University of Maryland School of Law, the University of Baltimore School of Law, and lectures at the Harvard Law School Negotiation & Mediation Clinical Program.
Committed to public and civic matters, Shapiro has chaired over 25 boards of charitable and community organizations, including Peace Players International, the Johns Hopkins Children's Center, the University of Maryland Cancer Center Advisory Board, the Baltimore Jewish Community Relations Council, the American Jewish Committee (Baltimore Chapter), the Joint Program Plan Committee, and served as treasurer of the National Jewish Community Relations Council, and Board Member of the Associated Jewish Community Federation of Baltimore.
Shapiro has received numerous special honors and recognition including Chimes Hall of Fame for contributions and community service, American Sportscasters Association Hall of Fame Mel Allen Service Award, Cheltenham High School Hall of Fame, Maryland Marketing Statesman of the Year, the City of Baltimore Citizen Citation, and the Children's Guild award for "Making the Impossible – Possible."
Shapiro was named "one of Maryland's Super Lawyers," has been featured in The Best Lawyers in America for 18 consecutive years, is a recipient of "The Daily Record's 2010 Leadership in Law Award", and was named "Sports Law Lawyer of the Year" in the 2012 edition of Baltimore's Best Lawyers®.
Education & Heritage Award
JOSHUA SHEIN
A leader in both Baltimore's business and Jewish community, Joshua Shein is CEO and President of 1st Maryland Mortgage Corp/Great Oak Lending Partners, a mortgage lending practice he co-founded in 2001in Baltimore, Maryland. Under his leadership the company has grown to become one of the fastest growing nationally ranked reversemortgage companies in the United States. Prior to Great Oak Lending Partners, Josh was a co-founder and Vice President at NAJO Emergency Products, a premier manufacturer of innovative spinal immobilization products. Joshua graduated from the Associated Young Leadership program in 2009 and serves on AIPAC's Baltimore Executive Board. Josh has always held a strong affinity for Israel, having made Aliyah with his family at the age of 10, and lived in Israel for a few years before moving back to the United States in 1984.
Josh lives in Owings Mills with his wife Keira, daughter Lara, 7, and son Max, 4. Josh and Keira relocated to Baltimore in 2000 from Brookline, Massachusetts. Josh was born and raised in Providence, Rhode Island, where he attended the Providence Hebrew Day School. He graduated cum laude from Ithaca College, in Ithaca, New York.
Alumnus of the Year Award

PROF. KENNETH LASSON, '63
Kenneth Lasson is a third-generation Hopkins alumnus (A.B. 1963, M.A. 1967, Graduate Teaching Fellow, The Writing Seminars, 1966-68). His father, Nelson B. Lasson (A.B.1927, Ph.D. 1937) received his doctorate in political science. His grandfather, David I. Macht (A.B. 1902, M.D. 1906) served on the medical school faculty.
After graduating from the University of Maryland School of Law in 1966, Prof. Lasson worked at Ralph Nader's Center for Study of Responsive Law in Washington, D.C., taught at Goucher College and Loyola University in Baltimore, and was a Guest Scholar at the Brookings Institution (Washington) and a Visiting Scholar at Cambridge University (England). He joined the faculty at the University of Baltimore School of Law in 1976, where he specializes in civil liberties and dispute resolution. He is also director of UB's Haifa Summer Law Institute. In 2008 he was named a University System of Maryland Faculty Regents Scholar.
A lifelong Baltimorean, Prof. Lasson and his wife Barbara have threechildren, two of whom live in Israel, and ten grandchildren (nine in Israel).
Woman of Valor -
Young Leadership Award

TARA BROWN
Tara is the AIPAC (American Israel Public Affairs Committee) Director for the Greater Baltimore Area which includes Baltimore City, Baltimore County, Howard County, Annapolis, Western Maryland and the Eastern Shore. AIPAC's core mission is to ensure the safety and security of the State of Israel by maintaining a strong relationship between Israel and the United States. Through her role as Baltimore Director, Tara has had the opportunity to work with hundreds of pro-Israel activists to carry out AIPAC's mission. Tara has been with AIPAC since 2007 and is thrilled that each year under her direction more and more Baltimore area families are getting involved with AIPAC and the pro-Israel movement.
As a graduate of the University of Maryland, College Park, she started her career in the University's Government Relations office where she lobbied on behalf of the University at the State House in Annapolis. After finishing her Master's Degree program in Education Leadership at the University, she continued to work for the University of Maryland as the Assistant Director of Development for the UM Law School. Throughout her early career Tara volunteered on many local, state and federal election campaigns which led to her leaving Higher Education to work full time on a Baltimore based Congressional race. It was during that Congressional campaign that Tara realized how important U.S.-Israel relations are and that her passion was with Israel and the Jewish people, leading her to AIPAC.
In addition to her work with AIPAC, Tara is very active as a lay leader with the Associated: Jewish Community Federation of Baltimore. She is most recently the past Vice-Chair of the young adult division, IMPACT, and now serves on the Baltimore-Ashkelon Partnership Committee. Additionally, Tara was just appointed to her first term as a member of the University of Maryland's Hillel Board. Tara loves animals, especially dogs, so she also volunteers at Baltimore County's Humane Society.
An extremely proud native of New Jersey, Tara has come to love and enjoy Baltimore. She lives in Fell's Point with her dog Jersey and in her spare time is known to root for the Maryland Terrapins and the New York Giants.